A wired mechanical gaming keyboard, the RAPOO V700 is a equipped with the latest features that are required for competitive gaming environments. The keyboard has attractive design ergonomics.
The device features mechanical Kailh switches that are designed for game controller applications. Each key is crafted with high precision offering tactility with smoother operation for accuracy and high ergonomics. Together with Kailh switches and RAPOO's intelligent design, the V700 packs an extreme tool for your gaming needs. Each key has a good 4mm travel distance for accuracy and superior typing and offers up to 60 million keystrokes lifespan.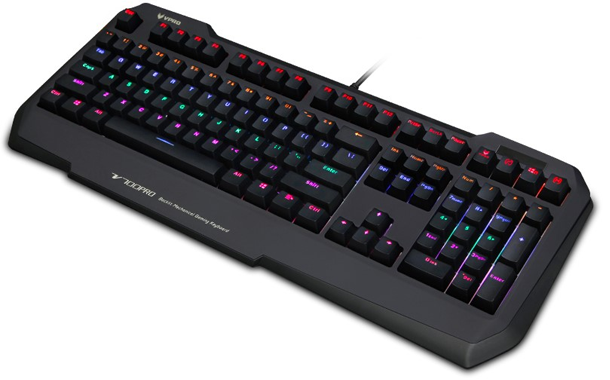 A full-size keyboard with 108 keys, the RAPOO V700 has a completely bezel-less design that gives it a unique & premium look. Each key on this digit buddy is programmable and backlit with RGB LED lights.  All the keys, including the single, macro and combination keys, are fully customizable to obey your keypress. Every key's backlight can also be individually controlled and programmed using the RAPOO driver software. With the driver software and keyboard's intelligent chip, users can regulate the LED colours keyboard and toggle through various intensity settings to create cool lighting effects.
As a wired keyboard, V700 offers no worries in terms of cable management. Unlike most keyboard brands, the RAPOO keyboard offers a detachable (user-replaceable) cable to ensure the longevity of the product. It features a standard USB Type-A to Mini USB cable, allowing for replacement for length or damage.